Applies to
ApexSQL Trigger
Symptoms
When opening the project file on another machine, the error appears: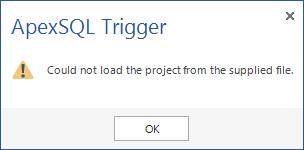 Workaround

To open a project on different machine, follow the steps below:
Make sure you have a project file saved on the initial machine where the auditing is already set
When you select all tables and columns for auditing, all operations to be audited (INSERT, UPDATE, and DELETE), Lookups and Watches created, save the current project by clicking the Save/Save as button in the Home tab: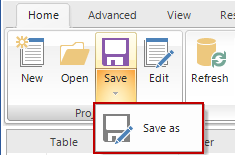 The project file extension is axap.
Run the application on another machine, and connect to the same database
Quick tip:

If the team is using the default architecture, and not the customized one, it does not need to be shared, but only loaded on each machine since the application is using the default one. Otherwise, customized architecture needs to be used
Save the new project in the same way as you did on the initial machine, without selecting any table/column, or operation for auditing
Quick tip:

Use the project file from another machine, even if it does not contain any information related to the auditing plan. It contains necessary information about the machine/current user, and the auditing plan will be "added" additionally
Open the project initially saved on the first machine (the one that contains an auditing plan) in any text editor
Open the project saved on another machine containing no information about the auditing plan
Remove all content between <Tables> and </Tables> tags in the new project file and paste the content previously copied
Save changes and close the file
Run the application and open the modified project file, by clicking the Open button from the Home tab:
Connect to a database, and the main grid will show that all is set, including Watch we recently created on the initial machine
Repeat steps above on each machine where you need the same auditing plan.
Planned resolution

The issue is scheduled for fixing in the upcoming release of ApexSQL Trigger 2015, planned for the Q3 2015.