Summary
The ApexSQL Audit installation cannot be completed successfully due to missing prerequisites.
Symptoms
During the ApexSQL Audit installation, the following dialog is shown indicating that some of the necessary prerequisites have not been installed.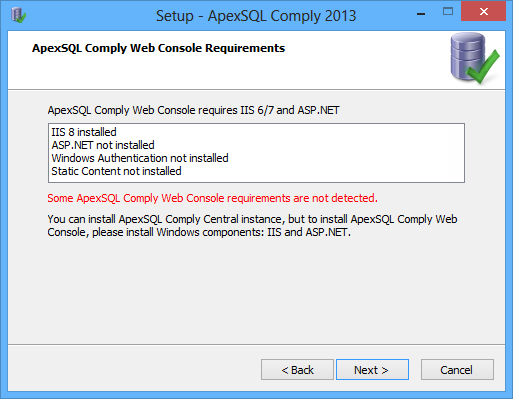 Cause
Some of the Windows features required for ApexSQL Audit to be installed successfully are missing.
Resolution
To resolve the problem, check the following list of the software prerequisites, and enable/install them accordingly. Restart the application installation process afterwards.
For ApexSQL Audit Web Console following software is required to be pre-installed prior to installation:
Microsoft Internet Information Services (IIS) 6.0 or greater:

Ensure that following features are installed (on some versions of Windows this may be included by default):

Control Panel –> Programs and Features –> Turn Windows features on or off –> Internet Information Services –> World Wide Web Services –> Application Development Features –> check ASP.NET 3.5.

Control Panel –> Programs and Features –> Turn Windows features on or off –> Internet Information Services –> World Wide Web Services –> Common HTTP Features –> check Static Content.

Control Panel –> Programs and Features –> Turn Windows features on or off –> Internet Information Services –> World Wide Web Services –> Security –> check Windows Authentication.

Browser: Internet Explorer 7 and above, or Google Chrome 27 and above