Applies to
All ApexSQL products
Summary
ApexSQL products contain Auto-updater, which notifies users of updates and allows them to automatically update to new versions. However, Auto-updater might not warn users who still have an older product version that the update is a new major version and that they should check their eligibility at our upgrade center (or contacting sales)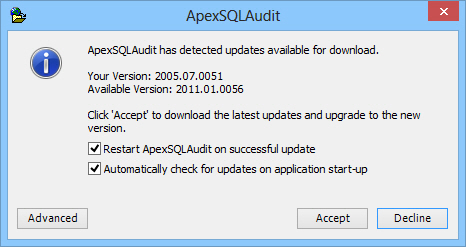 The newer updater dialog (shown below) gives even more explicit warnings as well as present a validation message when the customer presses 'Next'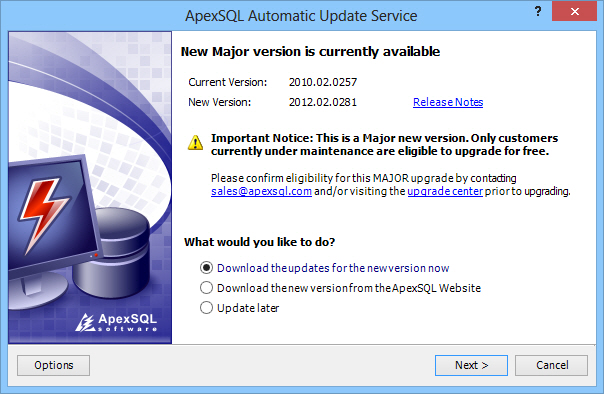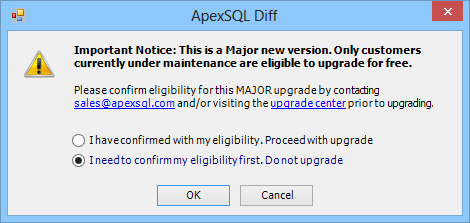 Resolution
There are two ways to solve the problem:
Revert to the old version
Simply uninstall the new version and download and install the old version
After downgrading make sure to turn off the Auto-updater: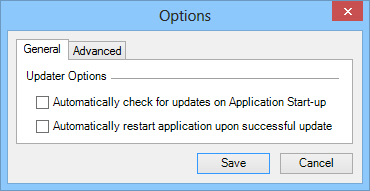 Upgrade to the new version
Existing customers always get a discount on new versions of the products, no matter how long ago they purchased an older version or have been out of maintenance. Contact Sales for help in purchasing a new version, or visit our upgrade center to check maintenance status and upgrade costs
For additional assistance, other questions, etc. please contact Sales
About ApexSQL
ApexSQL is a leading provider of SQL Server tools for database recovery, database auditing, database comparison, documentation as well as SQL Server Management Studio and Visual Studio add-ins for SQL code refactoring, code completion and database source control. We strive to ensure that every one of our tools is standard-defining product in its class, from feature set, to performance, interface and quality.
Last updated
July 29, 2012